Window Capture is another capture source that is dedicated towards capturing any applications that run on your computer. While Game Capture is designed specifically for capturing video games, Window Capture is designed for capturing and displaying more common applications such as your web browser, video editor, photoshop, or word processor.
This is a great capture source for applications such as PowerPoint to display presentations or create tutorial videos or showing the creation process drawing sketches.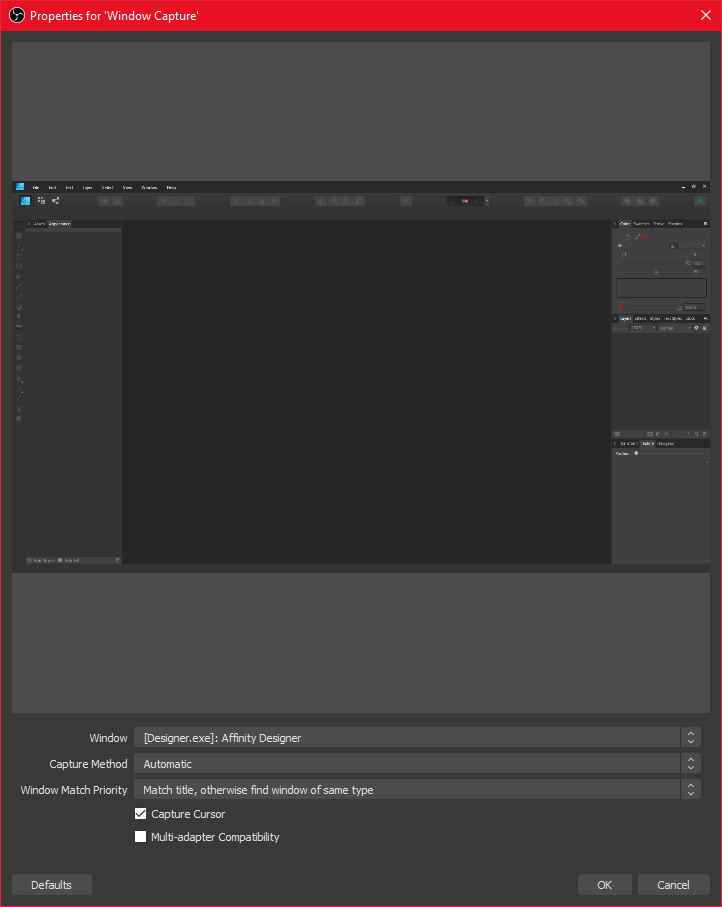 Window
The window option shows a drop-down list of all the active applications that are currently running. When selected Window Capture will resize itself to the application's dimensions and be displayed in the preview window.
Capture Method
The Capture Method option will determine how the applications are captured and displayed as determined by your Operating System. By default, the Capture Method is set to Automatic. If you are running a legacy application or an older operating system the drop-down list offers BitBlt for Windows 7 OS and up, and Windows Graphics Capture for Windows 10 build 1903 and up.
Window Match Priority
Like the Game Capture Source, the Window Match Priority option is to help OBS decide which application it should capture based on the title and application. Window Match Priority has three options: Window Title Must Match, Match Title Otherwise Find Window of Same Type, and Match Title Otherwise Find Window of Same Executable. If you run multiple instances of an application, you should use these options and look at the window title to make sure you are selecting the right game application to record.
Client Area
The Client Area checkbox gives you the option of hiding or showing the window frame that is displayed at the top of applications. By default, Client Area is enabled as to display only the application.
Create a Window Capture
Creating a Window Capture source is a straightforward process, just be mindful if you are running multiple instances of the same application that you look at the window title and select that in the window drop-down list to capture the correct application.
1. Click on the + sign in the sources window and select Window Capture.
2. Rename the source if desired and press OK in the pop-up window.
3. From the Window drop-down list, select the application you want to capture.
4. Select the OK button to close the Window Capture properties.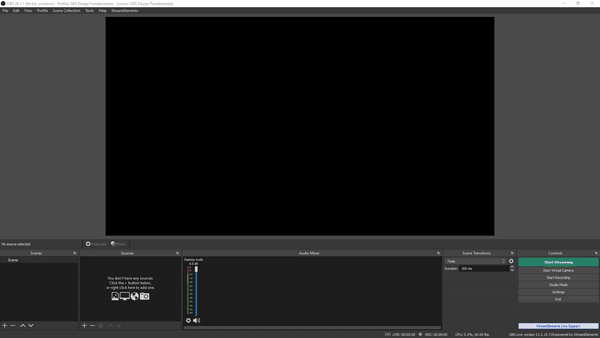 Window Capture is a good source to use with your everyday applications. You're able to cover the daily news displaying your web browser, make presentations using PowerPoint, or make how to or tutorial videos. When you want your viewers to focus only on an application, you should use Window Capture.