Display Capture is different than Window Capture and Game Capture. Instead of capturing a specific application, the Display Capture source will use your monitor as the source. This will display any applications, icons, and anything else that you make visible on your monitor.
While other sources have multiple properties, the Display Capture source only has one property and that is a checkbox to display your mouse cursor.
Create a Display Capture
1. Click on the + sign in the sources window and select Display Capture.
2. Rename the source if desired and click the OK button.
3. Select from the display drop-down list which monitor to use as a source.
4. Click on the OK button to close the Display Capture properties.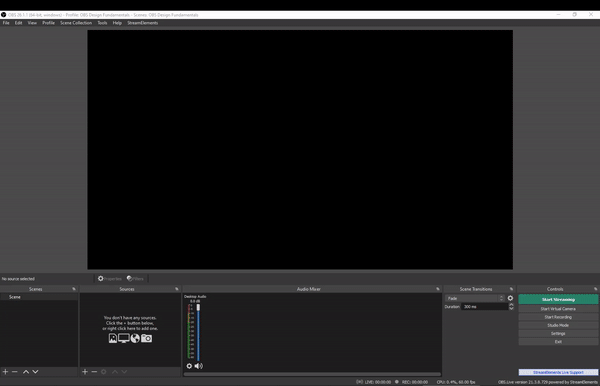 Before using the Display Capture source, a best practice is to organize the contents of the display to make sure that you are only showing what you want your viewers are meant to see. If there any files containing private information or if you use any applications that will have pop-up windows, I recommend either changing the primary monitor using Windows display settings or adjusting the settings of the application to not appear when receiving a message.
Display Capture has a lot of benefits over Game Capture and Window Capture since it is not limited to a specific application and Display Capture can also be used multiple times and cropped to show certain parts of your display for different scenes.