With audio being the most critical part of streaming, every streamer has their own audio solution. I wanted to share my audio setup that has served me for multiple years of streaming. So I'll go over what software you will require, how to set up the software with Open Broadcasting Software (OBS), and what benefits you will have with this setup.
Please note that this guide is to showcase my audio setup. I will not be going in depth into the finer points of Voicemeeter Banana.
Voicemeeter Banana
The primary software of my audio setup is a virtual mixer called Voicemeeter Banana developed by VB-Audio. To download the application click this link.
https://www.vb-audio.com/Voicemeeter/banana.htm
How Voicemeeter Banana Works
Voicemeeter Banana works by creating virtual inputs in your operating system. Like a physical mixer, all input devices such as microphones and output devices like headphones or speakers need to be connected to the mixer to work.
If you would like to read the manual for voicemeeter banana you can go here.
https://www.vb-audio.com/Voicemeeter/banana.htm#Documentation
Input and Output Devices
By clicking on hardware input 1, a list will appear showing all your available inputs. Here you will want to select the microphone you use as it will affect all applications you use. After you have selected your microphone, make sure B2 is highlighted.
For hardware out, click on A1, a list will appear of all your output devices. Pick your primary audio device, in my example below I have my headphones selected. Note that you can change both the input and output device at anytime. So if you want to listen to music from your speakers you can change the output device.
Finally, Virtual Inputs, simply put Voicemeeter VAIO and Voicemeeter AUX will be your output device for windows and OBS. For Voicemter VAIO, make sure that A1 is highlighted. For Voicemeeter AUX, make sure that A1 and B2 (hardware input 1's channel) is highlighted.
For quick reference and setup, refer to the image below.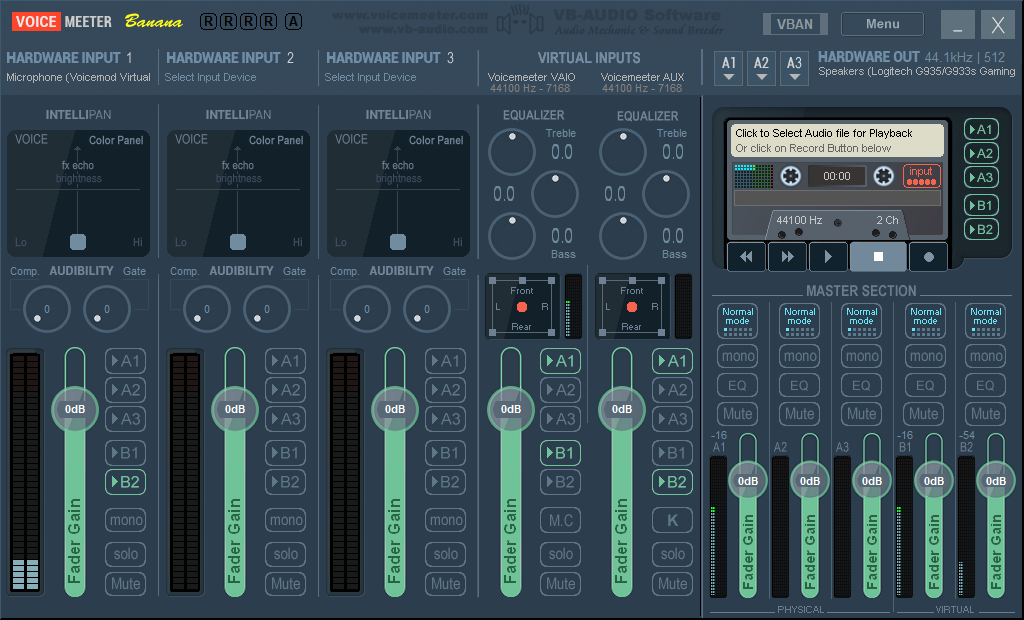 Windows Sound Setup
In order to have all audio sources go through Voicemeeter Banana, you will need to change your windows sound settings.
For Output, you will want to select "Voicemeeter Input (VB-Audio Voicemeeter VAIO)"
For Input, you will want to select the same microphone that you set in Voicemeeter Banana.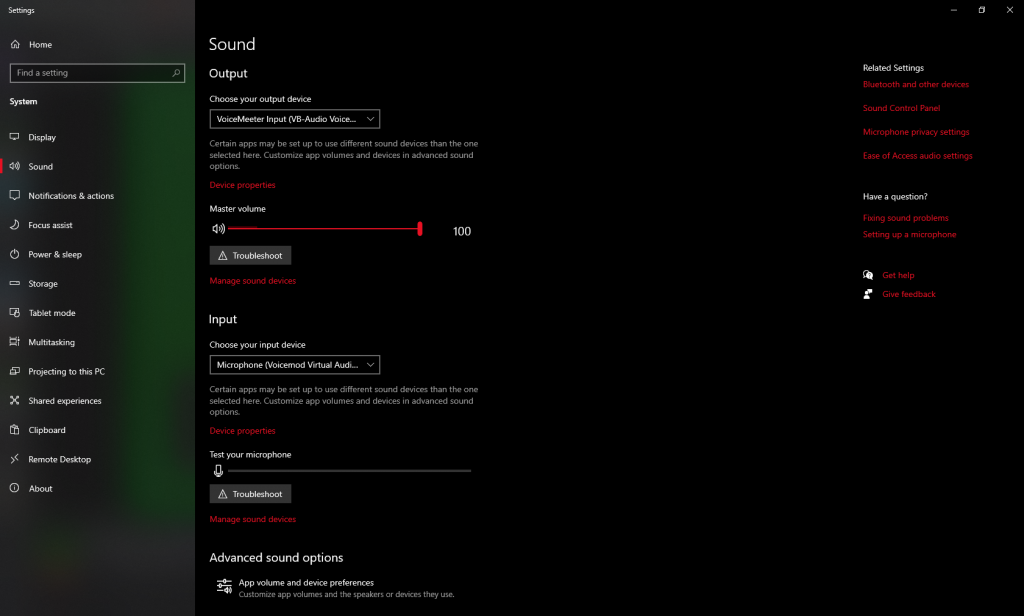 OBS Sound Setup
Finally, you'll need to go into OBS and change the audio settings.
To access settings, click on the file tab and select settings. From the settings pop-up menu, select the audio tab.
OBS by default will allow two desktop audio sources and four microphone sources. For Desktop Audio select from the drop down list "Voicemeeter Input (VB-Audio Voicemeeter VAIO)". For Desktop Audio 2 select from the drop down list "Voicemeeter Aux Input (VB-Audio Voicemeeter AUX VAIO)". Finally, for Mic/Auxiliary Audio select the microphone you have picked as Hardware Input 1 in Voicemeeter Banana.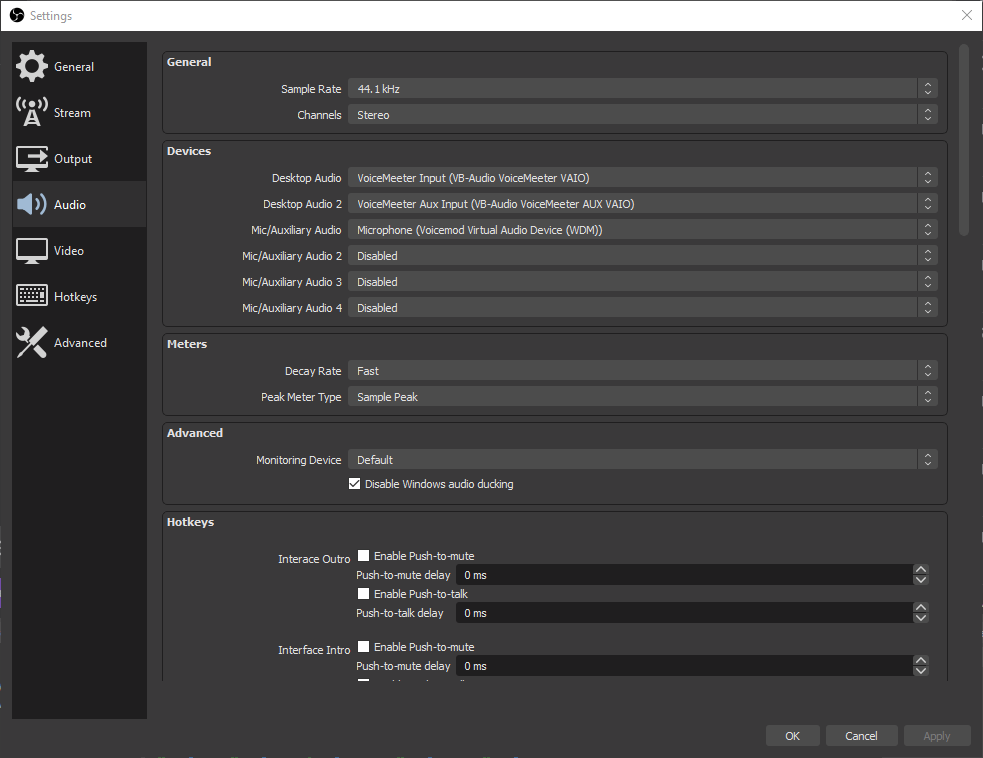 After you have applied those settings, you'll need to go into Advanced Audio Properties from the Audio Mixer. To access Advanced Audio Properties, from the main screen under the section Audio Mixer, click on any gear from your audio sources and select Advanced Audio Properties.
Advanced Audio Properties allow you to select which audio sources are played through each track. The maximum amount of tracks allowed is six. For streaming, you will want all audio sources to be checked for Track 1. For recordings, you can dedicate one or multiple audio sources to a track. For example, if you want a standalone recording of your microphone you can select track 4. Below is an example of my Advance Audio Properties.

Discord Setup
The last step is to change your Discord voice settings. To change your voice settings in discord, click the gear in the lower left corner next to your user name to bring up user settings. Under the App Settings section, select Voice & Video.
For input device, select your microphone that you selected in Voicemeeter Banana. For Output Device, select "Voicemeeter Aux Input (VB-Audio Voicemeeter AUX VAIO)".
Advantages and Benefits
Now that you have everything setup, here is what you'll get from using Voicemeeter Banana for streaming.
In OBS, you now have your audio split into two channels. The Desktop Audio 1 will output your game audio and windows audio. However, Desktop Audio 2 will output the audio channels from Discord. So any guests that you have on your streams will have their own audio channel that you can increase and decrease for your viewers.
If you have an Elgato Stream Deck, there is another advantage to having this setup. Using the Soundboard feature, you can set any audio files output to Voicemeeter Aux Input (VB-Audio Voicemeeter AUX VAIO). Meaning those audio files will now be playing through Desktop Audio 2 in OBS.
The main benefit from this setup is that you will have complete control over all audio sources in OBS creating an enjoyable listening experience for your viewers. If you record your streams to make clips for Twitter or Youtube all audio sources will be on their own audio track in video editing software making the editing process more efficient.
Remember, audio is king. Audio is the most important factor to creating an enjoyable stream for your viewers. This is a no cost audio setup where you will have complete control over each audio source separately that can be adjusted in OBS to prevent clipping and peaking.