If you're looking for a new way to play retro games or a new way to entertain your viewers then you should really check out this mod called Bizhawk Shuffler.
Originally created by Brossentia, host of Kusogrande on Twitch. Bizhawk Shuffler is a mod that will take a set of games and will shuffle their appearance based on a minimum and maximum timed interval. Each time the game is switched, a save state will be created and when the game is selected the save state will be loaded. For example, you could be playing a game like Mega Man and after a random period the shuffler will change the game to Super Mario Bros.
Now under the development of authorblues, computer scientist professor. Bizhawk Shuffler has a simple setup process that I think you should try out. Whether you are looking for a new way to play games or a fun way to do a game race with your friends, Bizhawk Shuffler is a new mod that has a lot of potential.
Instructions
Download Software
Download & Install Bizhawk
First, you'll need the emulator program Bizhawk. Which you can download at http://tasvideos.org/BizHawk.html.
If you need direct links to download Bizhawk, you can find them below.
Download Bizhawk Shuffler
Next, you'll need to download the Bizhawk Shuffler mod at the link below. Once downloaded you will need to put the extracted folder into the Bizhawk folder.
https://github.com/authorblues/bizhawk-shuffler-2
Extract ZIP file
Move folder into Bizhawk folder
Bizhawk Shuffler Setup
Move ROM files that you would like to be shuffled into the Bizhawk Shuffler games folder

Warning: If using ZIP files of ROM file, ensure there is only one ROM file inside. If multiple ROM files are in the ZIP file, a pop-up window will ask which rom to use each time the ZIP file is selected in the shuffler.

Start Bizhawk application Emuhawk.exe

Method #1

Click and drag file shuffler.lua on top of Emuhawk window.

Method#2

Click on the Tools tab from the menu bar and select Lua Console.

Click on the folder or click on the script tab from the menu bar and select open script.

Go to the bizhawk shuffler folder and select the file shuffler.lua and click open.
Bizhawk Shuffler Settings
Seed #: Key number for the shuffler. If racing with a friend and want the same order or games, use the same seed.

Randomize Seed: Generates a new seed # for Shuffler.

Min/Max Swap Time (in seconds): Determine the minimum and maximum of time before game swaps to the next game.

Shuffler Swap Order: How the shuffler decides what order the games appear

Random Order (Default): Order of games is randomized.

Fixed Order: Order of games is fixed. Order determined by the name of the ROM file in alphabetical order.

Hotkey: Game Completed: Input hotkey to remove game from shuffler

Setup Plugins: Select to use scripted plugins for Bizhawk Shuffler.

Resuming a Session?: Use to re-start shuffler from previous session.

Note: Starting a new session will delete the previous session and save states.

Start New Sessions: Starts shuffler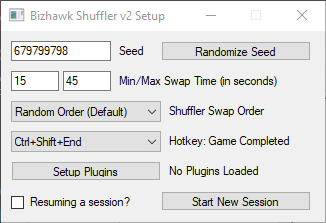 After you click Start New Sessions, Bizhawk will start the first game and you can enjoy the challenge of playing through multiple games as they get shuffled at random.
Display Bizhawk Shuffler Output Text Files
If you enjoy streaming and want to show your audience more than just the game. authorblues created additional text files that you can add as a text source to your streaming software. These text files will automatically update when Bizhawk Shuffler shuffles to the next game. Here are the following text files that come with Bizhawk Shuffler.
Completed-games.txt – Displays list of games that have been marked as completed.
Current-game.txt – Displays the current game.

Note: Based on the file name of the ROM

Current-swaps.txt – Displays the number of times the shuffler has swapped to the current games.
Current-time.txt – Displays the time spent on the current game.
Total-swaps.txt – Displays the total number of times Bizhawk Shuffler has swapped games.
Total-time.txt – Displays the total time spent for the entire Bizhawk Shuffler.
To display the any of these files, here is how you attach a text file to a text source. For this example, I'll be using OBS Studio.
Create a new text source.
Name the text source.
Select the checkbox "Read from file" and click Browse.
Select the text file you want to use located in the Output-info folder and select Open.
Adjust the Font settings as desired.
Click the OK button to confirm settings.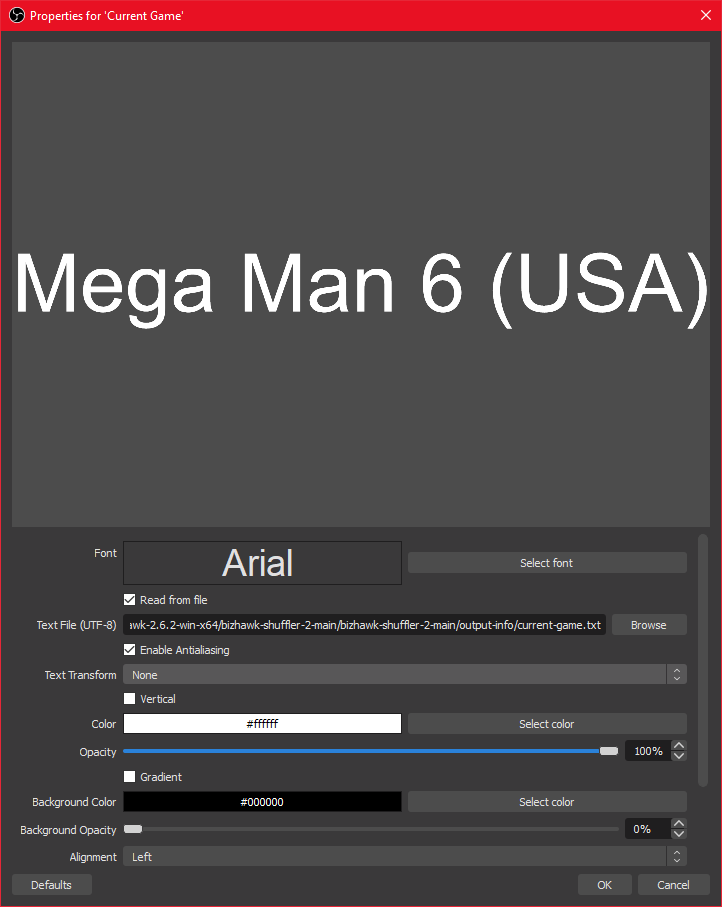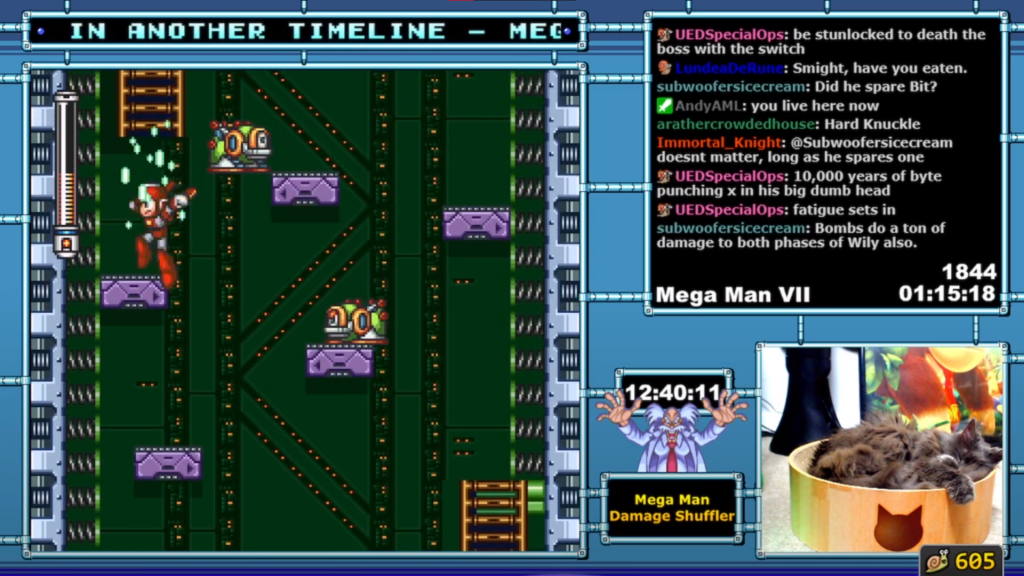 Bizhawk Shuffler is a new novel way to play a collection games that you love but want to introduce a new challenge. Bizhawk Shuffler is easy to setup thanks to Brossentia and authorblues. If you're a streamer of retro games and looking for a new way to stand out or just want to challenge yourself with games that you love to play, I highly recommend trying out Bizhawk Shuffler.