One of the most common tools a content creator will look for is a program that will allow them to record their gameplay and desktop. Applications such as OBS while free involves in depth knowledge to get a quality recording and audio balancing. What I want to talk about is a program that is overlooked and forgotten by most content creators that have an Nvidia graphics card and that is Nvidia Shadowplay.
What is Nvidia ShadowPlay?
Nvidia Shadowplay is feature that exists as part of the application GeForce Experience. Shadowplay can monitor framerate, display a camera overlay, take screenshots, broadcast livestreams, and record gameplay.
To run shadowplay, your computer will require a Nvidia GTX graphics card 600 series or later or a Nvidia RTX GPU. Unfortunately, any MX series GPU will not be able to use ShadowPlay.
To activate Nvidia ShadowPlay, you can access ShadowPlay by clicking the share button in the GeForce Experience app or using the default hotkey ALT+Z. When activated an overlay will appear over your display showing the features that Shadowplay has to offer.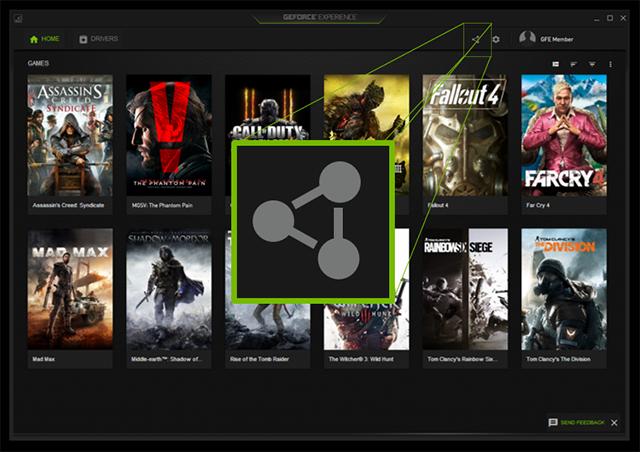 While ShadowPlay offers unique features such as broadcasting and a photo mode and game filter. The broadcast feature was not fully fleshed out and the photo mode and game filter are limited to specific game titles. I'll be focusing on the primary features that you'll want to use ShadowPlay for which are screenshots, record videos, and instant replays.
ShadowPlay Features
Screenshot
While windows let users take screenshots using Shift+Win+S. The downside is that you still need to confirm the selection of the screenshot then moved to windows snip & sketch and finally needs to be saved. ShadowPlay in contrast takes the screenshot of the game you are playing or the primary monitor of your desktop and saves the photo to your hard drive using a customized hotkey.
The pictures saved will be based on your monitor's resolution and saved to the same folder that you set. Be default, videos and pictures will be saved in your user account in the sub folder video. If ShadowPlay discovers a new game, it will create a new folder specifically for that game. ShadowPlay can also take pictures of your desktop, but you will have to give permission to ShadowPlay through the Privacy controls.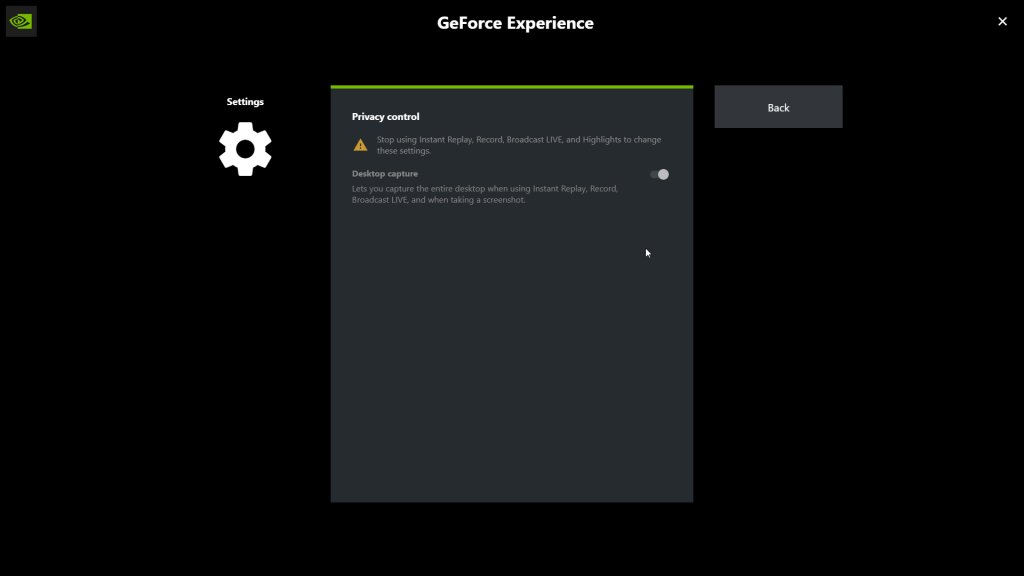 If you are playing a game or need a quick screenshot of your desktop where you'll take care of the photo editing later. ShadowPlay's screenshot is a great no-nonsense tool.
Record
ShadowPlay's record feature is a great simple way to record your desktop or gameplay to create video projects ranging from tutorial videos to a highlights video. The two things you will want to setup before you start recording is the audio settings and the video quality.
The default audio settings in ShadowPlay are fine if you just want to record the just the gameplay. However, ShadowPlay also offers the ability to record the audio from a microphone as well as create dedicated audio tracks for your microphone and the gameplay.
In the settings, you can select the audio tab and you'll be able to adjust the volume of the gameplay and microphone, select which microphone to record from, and if you want the audio tracks to be combined or separated. If you plan on creating commentary or tutorial videos, I recommend separating your audio tracks and manage the volume through a video editor.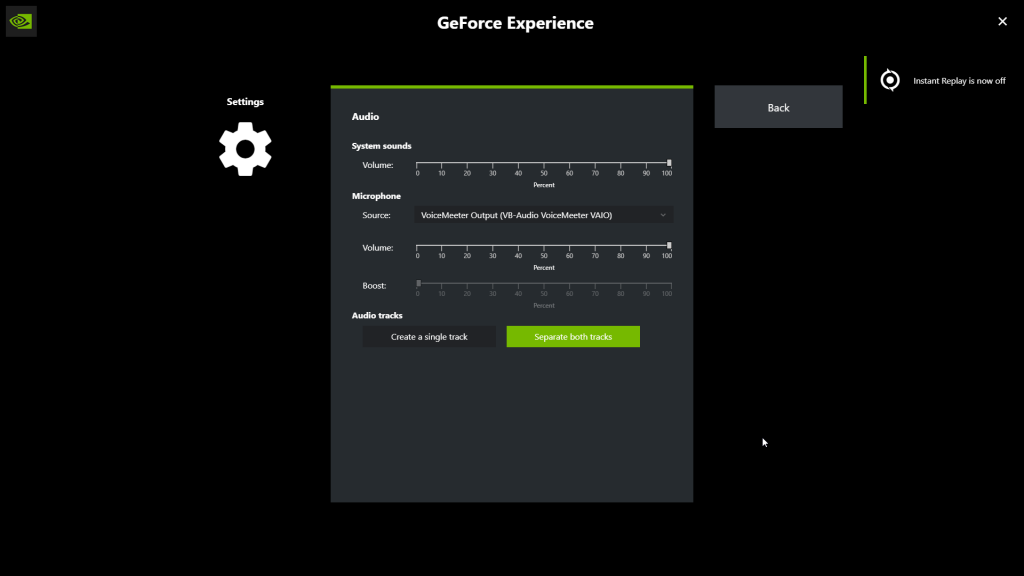 For video settings, you can set the video quality by using one of ShadowPlay's default settings or set a custom bit rate. The higher the bit rate, the bigger the file size of each recording will be. Finally, you can set the resolution based on the resolution set in-game or set a pre-determined resolution from the dropdown list.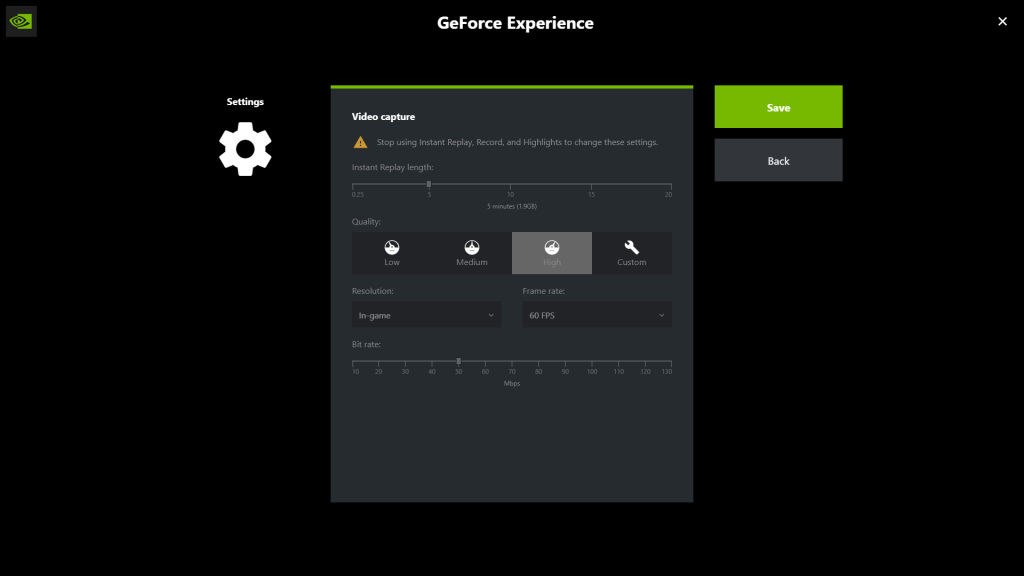 Instant Replay
ShadowPlay's Instant Replay is a great feature that allows you to quickly create a video clip when you aren't recording. When turned on, Instant Replay will monitor your gameplay. If you see a moment that you would like to record to share or us in a video, you can press ALT+F10 and ShadowPlay will create a video file.
In the Video Capture settings, you can set the Instant Replay length from a minimum of fifteen seconds to a maximum of twenty minutes. The default Instant Replay length is five minutes. Just remember that the longer the Instant Replay length, the bigger the file size will be.
HUD Layout
The final feature that you'll want to look at is the HUD Layout. The HUD Layout is in the settings and can display the following sources when taking a screenshot, recording, or instant replay: Camera, Status Indicator, Performance, Viewers, and Comments.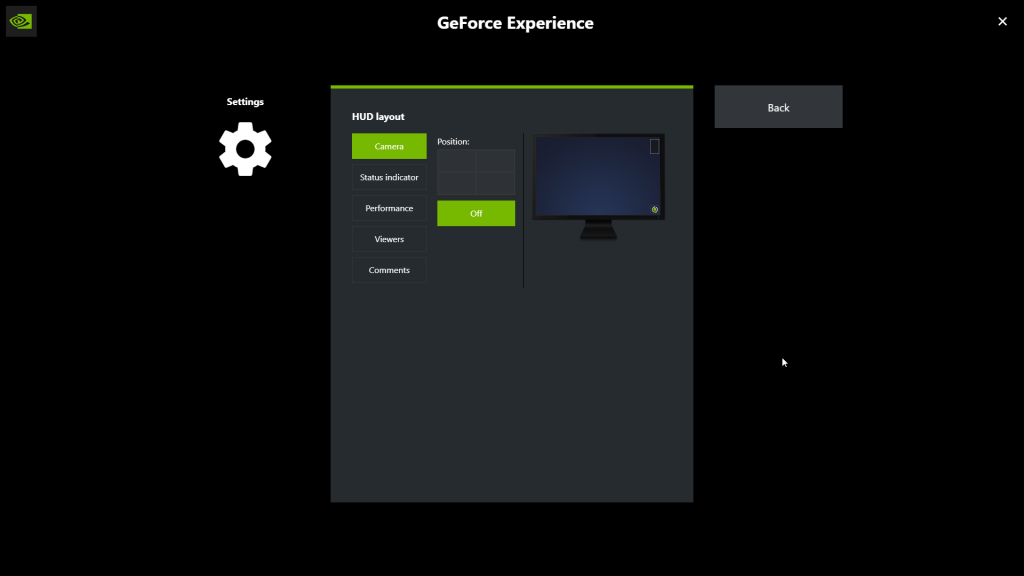 The camera source will use the first camera source it detects. For most users, who only have a web camera attached to their computer, the camera source will work as intended. Unfortunately, ShadowPlay offers no option to switch to different cameras. If you use multiple capture cards or webcams and want to use a specific device, you'll have to disconnect the other devices from your computer.
The Status Indicator will appear when you start a recording or have turned on the Instant Replay feature and if the microphone is active or muted.
Performance offers a range of options. From showing just the FPS when you are playing a game to more in-depth options showing the stats of your GPU.
Finally, viewers and comments will only show if you are using the broadcast feature. If you are using ShadowPlay to stream to websites like Twitch, you will be able to see how many viewers are watching and see their comments.
Simple and Overlooked
Taking screenshots of gameplay is simple and instantaneous. You can record your desktop or games as well as separate the audio to two tracks for video editing and even if you aren't recording, the Instant Replay feature can create a video clip by the press of a button.
Nvidia Shadowplay is an incredibly useful feature for content creators but overlooked as ShadowPlay is buried within GeForce Experience. However, ShadowPlay is a tool that you should try if you have a GTX or RTX graphics card and would like a simple way to create tutorial videos, writing reviews, or highlights, or just share gameplay clips on social media.